ICS Calendar Pro supports the Block Editor (a.k.a. Gutenberg) with an ICS Calendar block.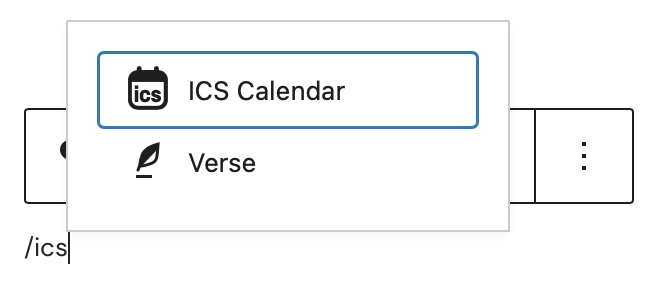 When inserting a new block, simply type /ics to select the ICS Calendar block.
ICS Calendar blocks function identically to the Calendar Builder, except that the calendar you create with the block exists only in the page where you create it, rather than being listed under ICS Calendar → All Calendars.
When using the ICS Calendar block, you do not need to enter a shortcode in your page.
The ICS Calendar block cannot show a live preview within the Block Editor, so when your cursor is not focused on this block, you'll see the following message instead:

When you click on this placeholder block, you'll be presented with the familiar Calendar Builder interface: