Calendar Builder
The free version of ICS Calendar requires you to create a shortcode with all of your configuration options typed in. Calendar Builder lets you configure one or more customized calendar displays with a user-friendly interface and generates a simple ID-based shortcode that you can drop in anywhere you would use the full ICS Calendar shortcode. Any changes you make to a saved calendar will automatically take effect on any pages where you've used that calendar's shortcode.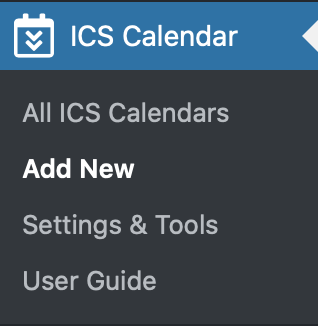 In WordPress admin, go to ICS Calendar > Add New to create a new calendar, or ICS Calendar > All ICS Calendars to edit your saved calendars.
At the top of the Add New ICS Calendar screen, give your calendar a title. Note: This title will not be displayed anywhere on the site; it is simply a way for you to identify the different calendars you have created within WordPress admin.
The Shortcode field is not editable; it is a convenient way for you to copy this calendar's ID-based shortcode to your clipboard to paste into your content where desired.
Below this is a set of tabs where you can manage the configuration details for your calendar. Note that most inputs have a blue question mark icon. Hover over any of these icons for contextual help.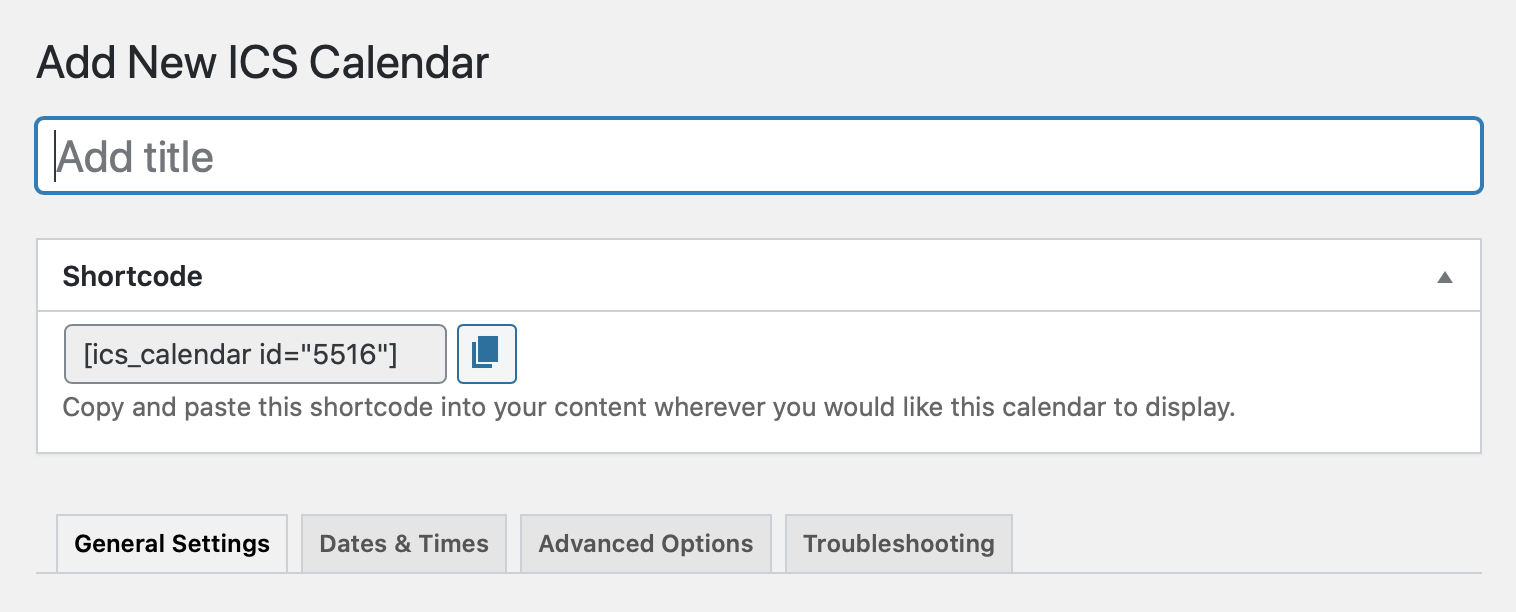 General Settings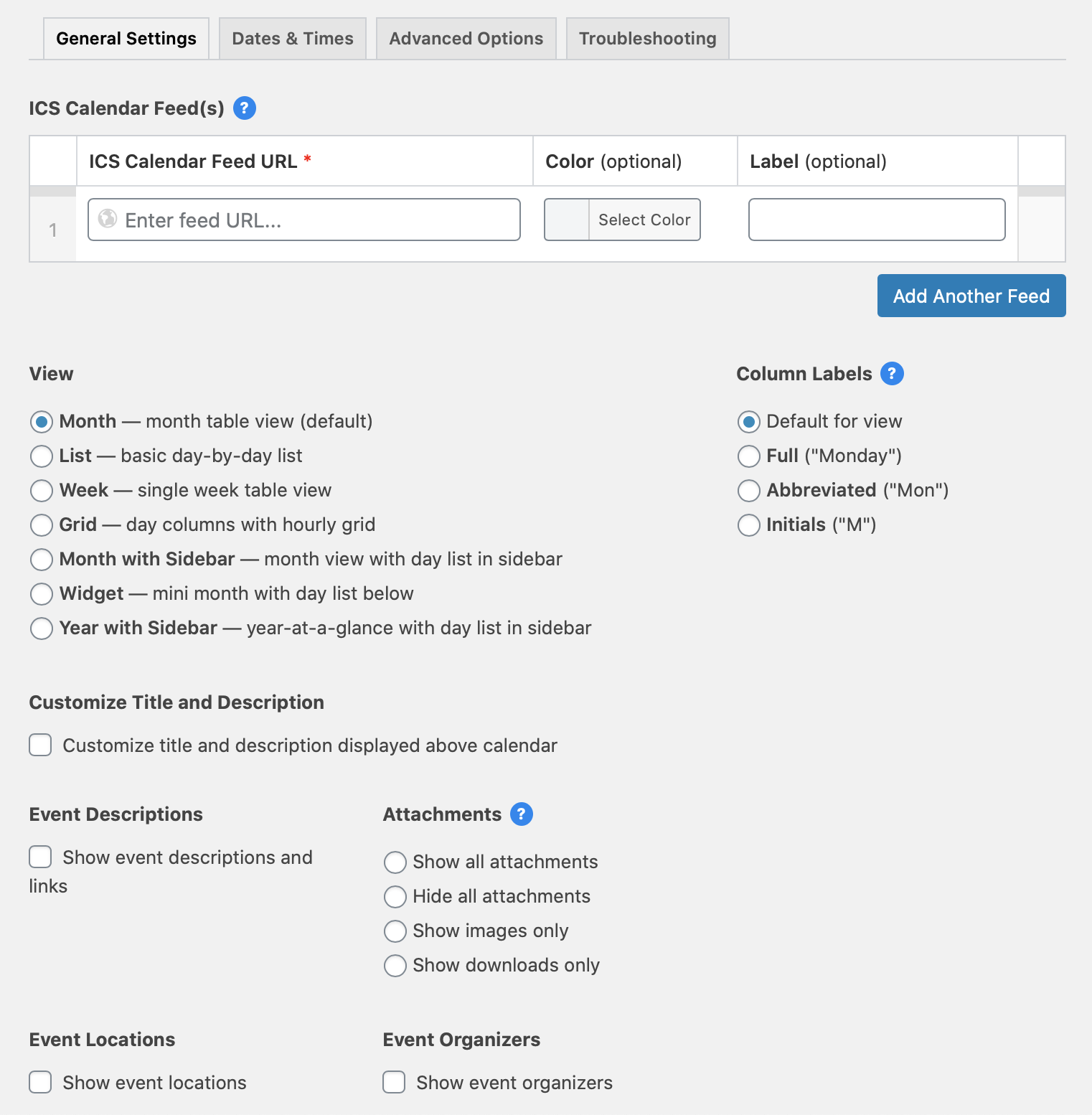 Paste the URL of your calendar feed into the Enter feed URL… box. You can obtain the URL of your feed from your calendar software. If you intend to combine multiple feeds into one calendar display, click the blue Add Another Feed button for each feed, and paste one URL into each row.
Don't have your ICS feed URL? Find out where to get it for Google Calendar, Microsoft Outlook, or Calendar.app (Mac/iOS).
If you're displaying multiple calendars, you can differentiate them for your users by assigning a unique Color and Label to each calendar.
There are seven View options for displaying your calendar. The Month, List and Week views are part of the free ICS Calendar plugin; the four additional views are available only with ICS Calendar Pro. To the right of the View options will be additional options that vary depending on the view you have selected.
By default, your calendar will display the Title and Description (if available) pulled directly from the ICS feed. If you wish to override these, check the Customize Title and Description box, and fields will appear for you to enter your own title and description. Type none into these boxes to hide the title or description entirely.
Additional configuration options are available for managing the display of descriptions, attachments, locations and organizers for each individual event in the feed.
Dates & Times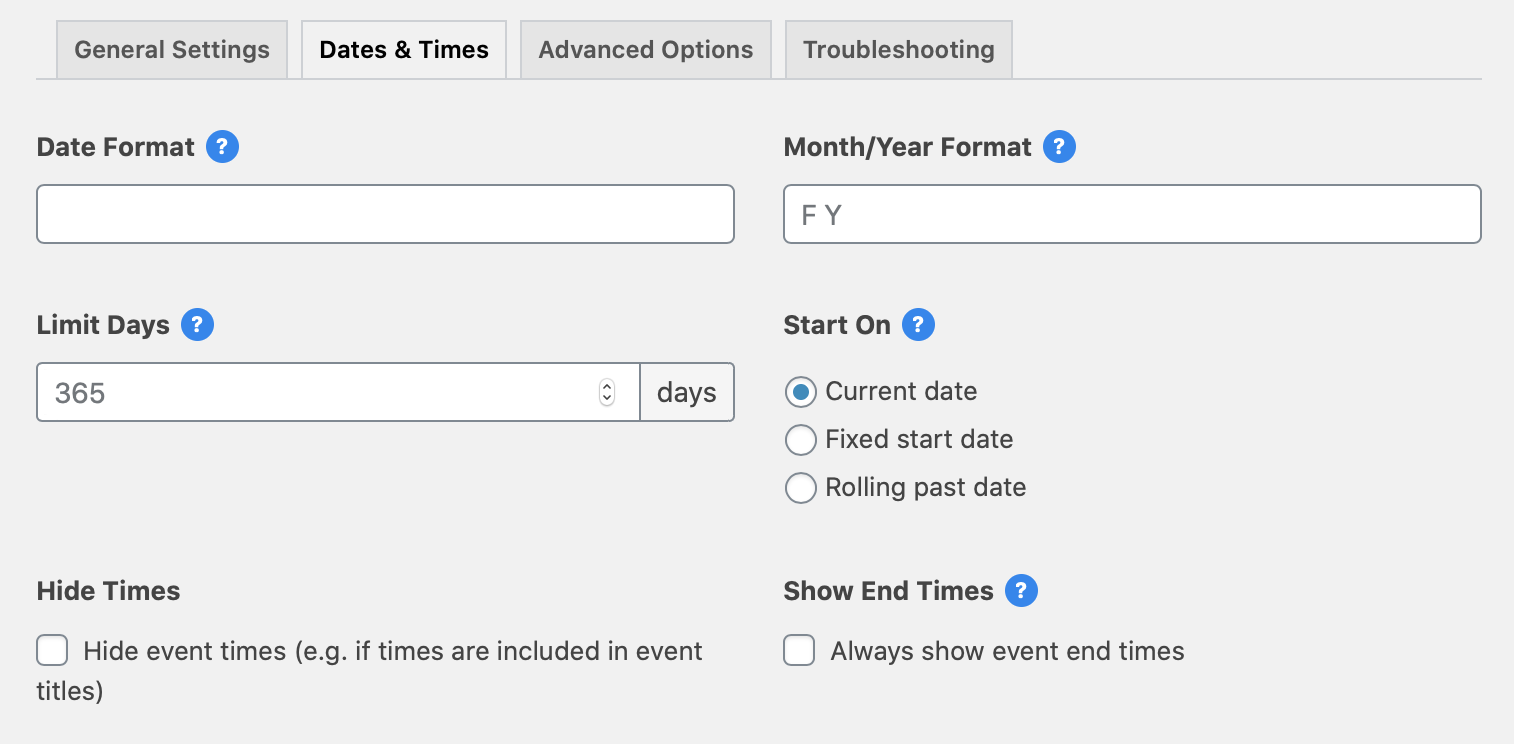 The Dates & Times tab lets you customize date and time display formats and the date ranges to be displayed in the calendar.
The Date Format and Month/Year Format fields accept a standard PHP date format string. Leave blank for default display.
The Limit Days field sets how many days into the future should be displayed. Lowering this value can improve performance on some servers. The Start On field lets you determine whether the display begins on the current date, a fixed date, or a rolling past date (e.g. 7 days ago). Note that with this value set to "Current date" many views will actually start on the first date of the current period of the calendar, e.g. Month view will begin on the 1st of the current month.
By default, event start times are always displayed, and event end times are hidden, but will display when the user hovers over an event. You can use Hide Times and Show End Times to modify this default behavior.
Advanced Options
The Advanced Options tab houses a set of less frequently used settings. Each should be fairly self-explanatory, although some also have help icons to provide additional guidance on their use.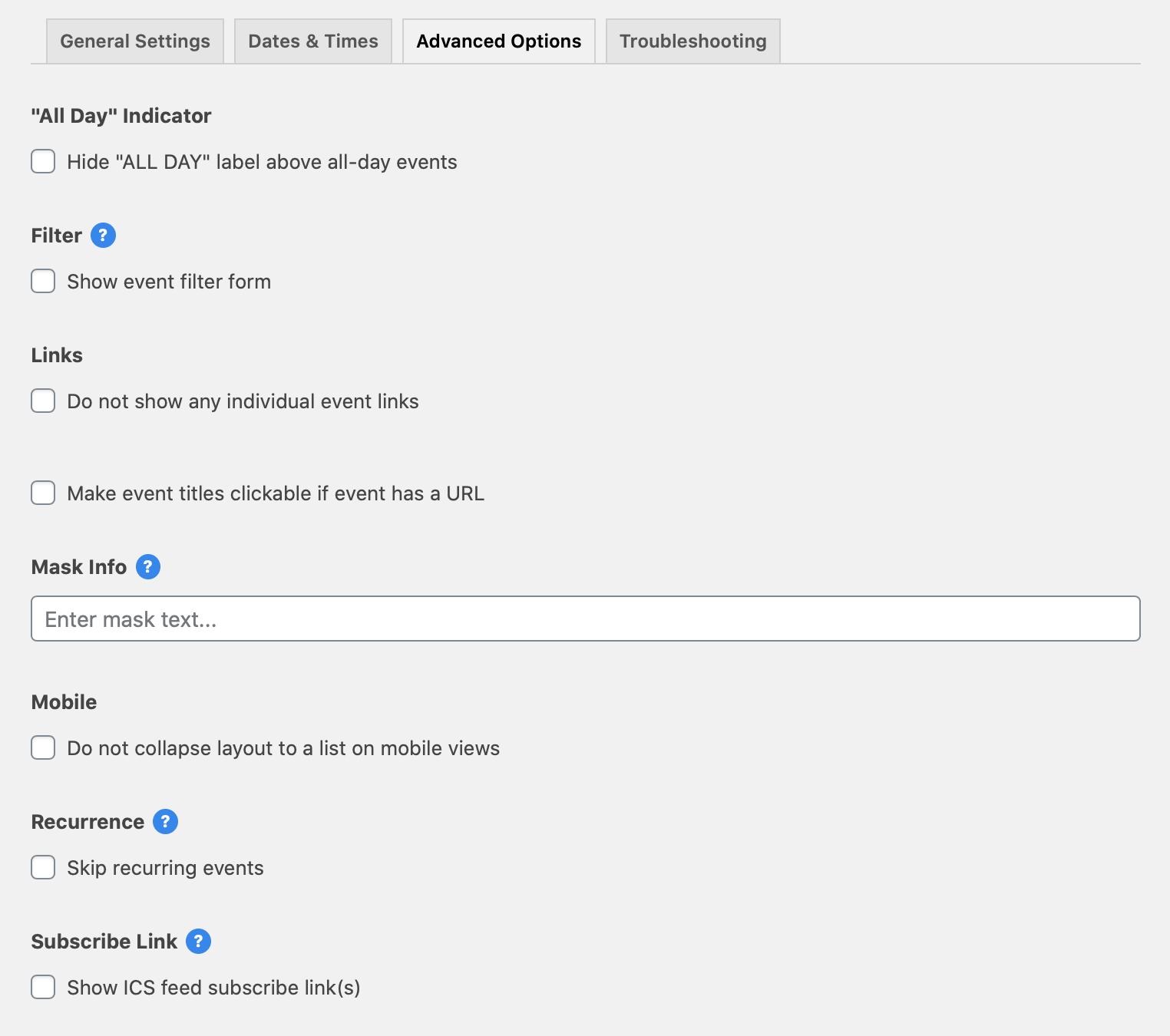 Troubleshooting
The Troubleshooting tab allows you to turn on advanced debugging tools to assist you in diagnosing any problems you may be having with the calendar display. Note that under most circumstances you should not leave Reload turned on permanently, as this will force the site to download and process the ICS feed from the source server on every page load, which can result in a slow site and possible errors if your source server has access limits.
Debug Mode turns on a debugging panel that dumps calendar/configuration data for diagnostic purposes. This panel will load on each page that displays the calendar, but can only be seen by logged-in users with the Administrator role.